Thanks to the after-sales team for bringing us the training course of PLX8600 High Frequency Digital Radiography/Fluoroscopy System.Through this training, we deepened our understanding of this machine,let me take you into our training class.PLX8600 High Frequency Digital Radiography/Fluoroscopy System Provide more efficient and accurate clinical evidence.
Through this training , we have more confidence in the great advantages of the product in interventional surgery.Let's see what do we get from PLX8600 High Frequency Digital Radiography/Fluoroscopy System
①Rebirth of radiology imaging
100kW High power generator/large heat capacity/long standby time
No appointment required, walk-in radiography.The maximum heat capacity of X-ray tube reaches to 1.8MHU, which ensures a long standby time for continuous workflow regardless of radiography or fluoroscopy.
②Intelligent parameter turning+ smart dose control
Smart sensor, liberate your hands
The AEC ionized chamber ensures automatic parameter modulation based on different body thickness, whenever the auto mode is on, no manual adjustment required by radiologists.
With the DAP dose monitor program, PL X8600 large view dynamic FPD radiographyfuoroscpy system is able to present patient's cumulative dose in a single exposure, easy for radiologists to safely oversee radiation of frequent-visit patients.
③Rebirth of radiology imaging
Full spine in one image
No additional stitching operation
Double the view in equal radiation
The 17**34″ large view FPD, which is twice as big as the classical 17**17″ panel on the market, can obtain an image without further stitching. Compared with the conventional DR requiring multiple stitching, PLX8600 solve the issues caused by stitching such as uneven image density, image registration and magnification provide a true clinical solution of large view image.Thanks to rapid exposure of PL X8600 large view dynamic FPD DRF system, patients are able to finish the examination faster, and receive only 1/2 or 1/3 radiation of the conventional DR requiring multiple stitching in a single exposure.
④One for all Extra-large view for radiography/fluoroscopy
More function and easy operation
Apart from radiography, larger FPD also supports dynamic fluorocopy and DSI. Through dynamic fluoroscopy as well as DSI, PLX8600 is able to observe the lesion in complex body parts, capture the keyframe effectively as well as enormously reduce the repeat rate of radiography.
E.g. evaluating the mobility of long bone articulation, full vertebrae condition, valves in veins of lower limbs, gastrointestinal function and radiography of spinal cord. Apart from the above, more clinical use can be expanded.
⑤1 7" * 34″ Extra Size FPD
Single positioning Improving diagnositc efficiency
Extra-large FPD Minimize stitching errors
Single exposure Reducing radiation absorption
One for all Expansive field of view
Fast DSI Capturing all the keyframe
Extreme rapid exposure Reducing motion artifacts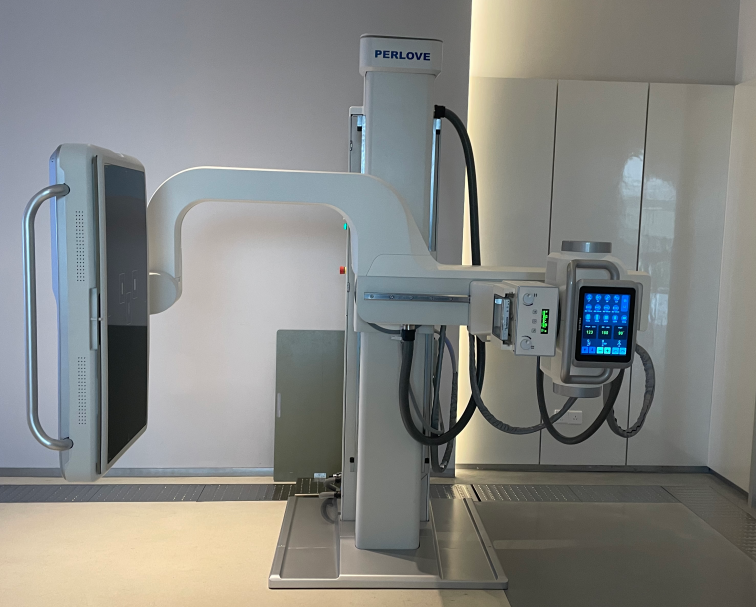 ⑥Breakthrough in Full-body radiography
First-rate solution for instant diagnosis
Weight-bearing is the amount of weight a patient puts on an injured body part, it reveals the pathological condition of the whole body skeleton in naturally standing. Fast imaging a 1:1 precise full spine image in a weight-bearing position.
PLX8600 High Frequency Digital Radiography/Fluoroscopy System is also capable of showing clear dynamic image of multi-angle in weight-bearing position, revealing healing condition of lesions more specifically, bringing more perspectives for clinical examination and high-resolution DSI.
⑦Breakthrough in Ful-body radiography
Clinical solution of double imaging
The idea of full spine in one exposure has a significant value in the clinical usage of lumbar degenerative diseases, ankylosing spondylitis, spinal tuberculosis etc.Giving a thorough examination of fracture site under the fluoroscopy image, as well as performing preoperative and postoperative diagnosis. E.g. oblique position of spine, pars interarticularis etc.Observing the whole spinal motion through fluoroscopy, as well as mobility and bone structure of pathological spine. Guided by fast DSI to capture keyframes, enabling radiologist to deploy precise surgical plans.
PLX8600 High Frequency Digital Radiography/Fluoroscopy System could be able to provide large filed of view for better demonstrating fracture site and nail position, e.g. those IM nails implanted in femur and humerus in particular.One photograph for both lower limbs, no additional stitching required. Measuring funciton is also available, which is easy for radiologist to record the data for accurate diagnosis.