What is spine surgical navigation system? spine surgical navigation system, also known as an orthopedic surgery navigation and positioning system. It consists of a mainframe, robotic arm, surgical planning and control software, optical tracking system, master dolly and navigation and positioning toolkit, and is mainly used to complete the positioning of surgical instruments or implants in open or percutaneous surgery in spine surgery and trauma orthopedics with the assistance of a robotic arm.
In orthopedic surgery robot-assisted orthopedic surgery, the surgeon scans the 3D body information of the patient into the computer through fluoroscopy or scanning. Once the system is automatically matched, the patient's skeletal tissue can be seen and the surgeon can choose the appropriate path to avoid the patient's vital tissue areas. After confirming the surgical path, the robot can accurately move to the place with sub-millimeter precision error through navigation technology and robotic arm motion control technology.
PL300B Megrez spine surgical navigation system
Is tspine surgical navigation system reliable for surgery?
Very reliable! In fact, the surgery is completely controlled by a professionally qualified orthopedic surgeon. The robot is assisting the surgeon to complete the surgery better and faster, not replacing the surgeon to perform the surgery. During surgery, the surgical plan developed by the surgeon is accurately transmitted in real time by the robot and synchronized to the surgical tool that will enter the patient's body. Robotic surgery is not for everyone. Surgeons must undergo systematic and rigorous operational training and pass an examination before they are qualified to use the robot as an assistant. The orthopaedic surgery robot also continuously performs safety self-tests to ensure safe and reliable operation.
Computerized data processing and analysis
With the increasing modernization of society, orthopedic diseases are becoming a prominent problem that seriously affects human life and health, and surgery has become an important treatment tool in orthopedics. However, the complex anatomical structure of the locomotor system and adjacent to important neurovascular tissues, traditional orthopedic surgery can only rely on the surgeon's experience due to the inability to observe the internal structure of the human body. The most important point is that the intraoperative i.e. visualization ensures the safety of the surgery.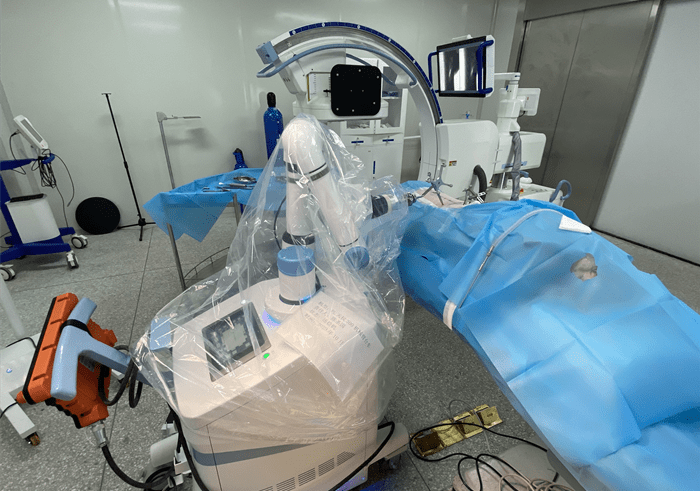 Intraoperative 3D C-arm fluoroscopy followed by analysis and positioning
Robot-assisted surgery with small trauma
PL300B Megrez spine surgical navigation system With cutting-edge surgical planning and accurate robotic arm navigation, PL300B is designed for the application of spine minimally invasive surgery, particularly for the case of spinal fusion surgey (e.g. PLIF, TLIF, ACDF ), vertebroplasty and kyphoplasty .If you are interested in our PL300B Megrez spine surgical navigation system, please contact with us